Happy FriYAY everyone! I'm super excited for this weekend. A friend is having an "end of summer" party at his beach house tomorrow night, and, like all of his parties have been in the past, I'm hoping for a fun-filled night!
Here are a few of my Friday Favorites. I'm just realizing it's been a while since I've actually done a Friday Favorites post…whoops. I hope this one is so amazing it makes up for the weeks I've missed (on second thought, please, don't get your hopes up).
I'll be linking up my favorites with Heather, Clare, and Jill. Thanks for hosting!
FRONT ROW OF YOGA
A couple weeks ago, I arrived to yoga late, and found that the only spots available were in the front row. I was always a back or middle row yogi, but I had no other options. To the front row it was. Much to my surprise, I actually really liked being in the front row. I was always self-conscious of people looking at/judging me if I was in the front row (I am, admittedly, not the most advanced when it comes to yoga), but it had the opposite effect. It seemed as though since I couldn't see other people in front of me, I forgot that people behind me might be looking at me. I actually felt more connected in class than I ever had before. In fact, the next time I went to yoga I choose to park my mat in the front row!
BACK TO SCHOOL/FALL CLOTHES
Okay, I'm super sad about summer ending, but fall is my favorite season to buy clothes for. I'm all about sweaters, boots, scarves, and all that jazz. I started my fall clothes shopping at the Salvation Army (side note: I like thrifting…partly because I can find cool things and partly because everything is cheap and my clothes budget is pretty darn small).
Yes, 3 out of 4 of these items are from the men's section.
I grabbed a couple oversize cardigans plus an oversize cream sweater, all from the men's section (truly the best place to look for cardigans and cozy sweaters IMO). I also grabbed a quarter-zip running/exercise fleece by the brand Alpine Design. I had never heard of the brand before, but after a quick Google search, it seems as though they're a pretty reputable brand. I won't be wearing the fleece for the next few weeks, but I know it will be perfect come fall and winter (when I end up layering 2-3 fleeces just to run outside and not on the dreadmill). Oh, all of this was like $11 in total. Score!
In addition to my thrifted finds, I also grabbed a pair of black ankle boots from Target (brand = Merona) that were on sale for $27. Once again, score! I've been in the market for black ankle boots since last fall, but I could never find the right ones, or the right ones were expensive AF. These are the right ones at the right price. Thank you, universe!
My last score as of late are a pair of high-waisted BDG jeans from Urban Outfitters. I love  BDG jeans. They are tight-but-stretchy and perfectly high waisted (right below belly button on me), making them super flattering and awesome. Seriously, they make my butt look GR8.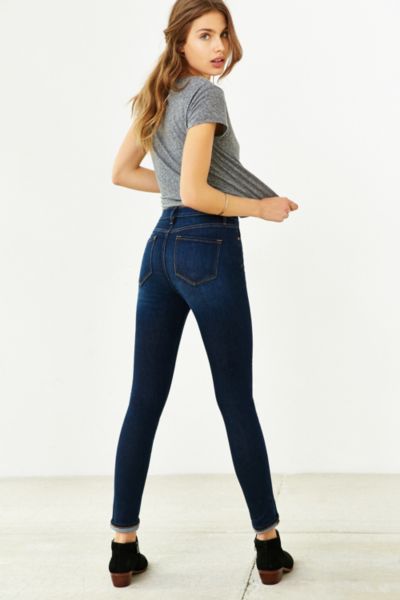 Buy these. You won't regret it. TRUST.
They were on sale at Urban for $39, and then I had 10% off thanks to UniDays (if you have a student email, definitely sign up for UniDays), plus I had free shipping with no minimum (usually it's $50) thanks to the Urban On app, making my grand total $35ish. Definitely better than the original $64 price tag. Again, thank you, universe!
CAROLINE JORDAN 20 MINUTE AB VIDEO
One of the most challenging ab videos I've done in a while. Dooooo it!
COOL(ER) WEATHER
Not happy about summer leaving, but I have been liking the cooler morning weather and less humid all day weather. It has been making running much more enjoyable. I was actually planning on going to yoga this morning, but when I saw that it was a cool 61 degrees outside, I couldn't pass up a run. Especially since the next week or so will be back to humid and 90s, which means I will be back to waking up even earlier to go for a run.
RED NAILPOLISH
Clearly not the best at painting my nails.
Nothing says classy quite like red nail polish. Last night I wanted to bring out my inner classy broad and chose Sally Hansen Xtreme Ware nail polish (aka super cheap and pretty crappy) in the color Cherry Red. Now, I feel like I can conquer anything.
That concludes this week's Friday Favorites. I hope everyone has a fantastic Friday and a wonderful weekend (apparently alliteration is a fave this week, too)!
Questions for you lovely humans:
1. What area of the room do you typically gravitate towards when taking a fitness class (yoga, spinning, barre, etc)? I definitely start in the back and work my way up as I get more comfortable/confident in my abilities (or when I show up late and realize the only available spot is in the front).
2. Have you started fall/back to school shopping yet?
3. What is the hardest workout you've done in a while?
BYEEEE
Julie