Sometimes it happens. You just have those amazing workouts where the stars align and you feel freaking phenomenal. That happened to me today, and it hadn't happened in a while. I was feeling particularly anxious due to a couple of my favorite co-workers/actual real life friends at this point letting me know that they are leaving (*cries internally*) while also having my daily "I should have gotten a full-time job right when I got out of school" freak out. I was going to the gym no matter what, but for whatever reason I decided that today I was gonna take out all of my anxiety there. I ran my lil heart out on the tread for 10 mins as a warm-up, and then did a really great total-body strength circuit. I'll put the circuit at the end of this post, but it's basically just a hodge-podge of different workouts I've found over the years and put together today.
Anyway, nothing was different about today compared to any other day in recent history. I've had decent workouts and I've had sucky workouts. Today, it was all mental (plus a little help from Tay Tay's new song, please tell me you've been jamming to Ready for it? as well!). I shifted my mindset from going to the gym "because I have to" to making it something that could help me release my anxiety. And you know what? It did. It truly did. I felt better about the co-worker sitch after. I know they have to move on, and I know that we will still be friends. These girls are awesome humans, I mean, we went to Vegas together and survived. As long as we make the effort, we will remain friends.
I've listened to this an embarrassing number of times
In keeping with my goals, I also met up with a friend who I haven't seen in a while tonight. It was super last minute, and super necessary. I am trying to fill this gap year with activities and people, and today just got the ball rolling in the right direction.
As promised, here is my workout:
Warm up-10 mins cardio (I did the tread, you can do whatever suits your fancy)
Strength circuit: 10-12 reps per exercise, 3x through, adjust weights for what ya need

Lat pull down on machine (60#)
Low rows (20# dumbells)
Walking lunges w/ weights (20# dumbells)
Bicep curls (15# dumbells, though I did one round with 20#-ers but could only get through 8 reps)
Tricep extensions (one 25# dumbell)
Squat w/ press (15# dumbells)

10 mins of abs at the end, honestly I don't remember exactly what moves I did, but I have an interval timer app on my phone and set it for 10 sets w/ 50 secs on and 10 secs off and did a different ab move each round
*I'm not a personal trainer, I just feel like I should put that here???
Okay, but really. What got me through this workout with such a positive attitude? Was it a mindset shift? Was it Tay Tay's crazy music magic?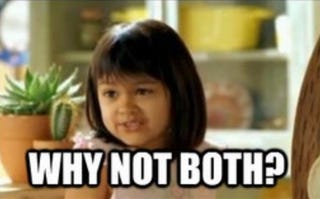 BYEEEEE
Julie